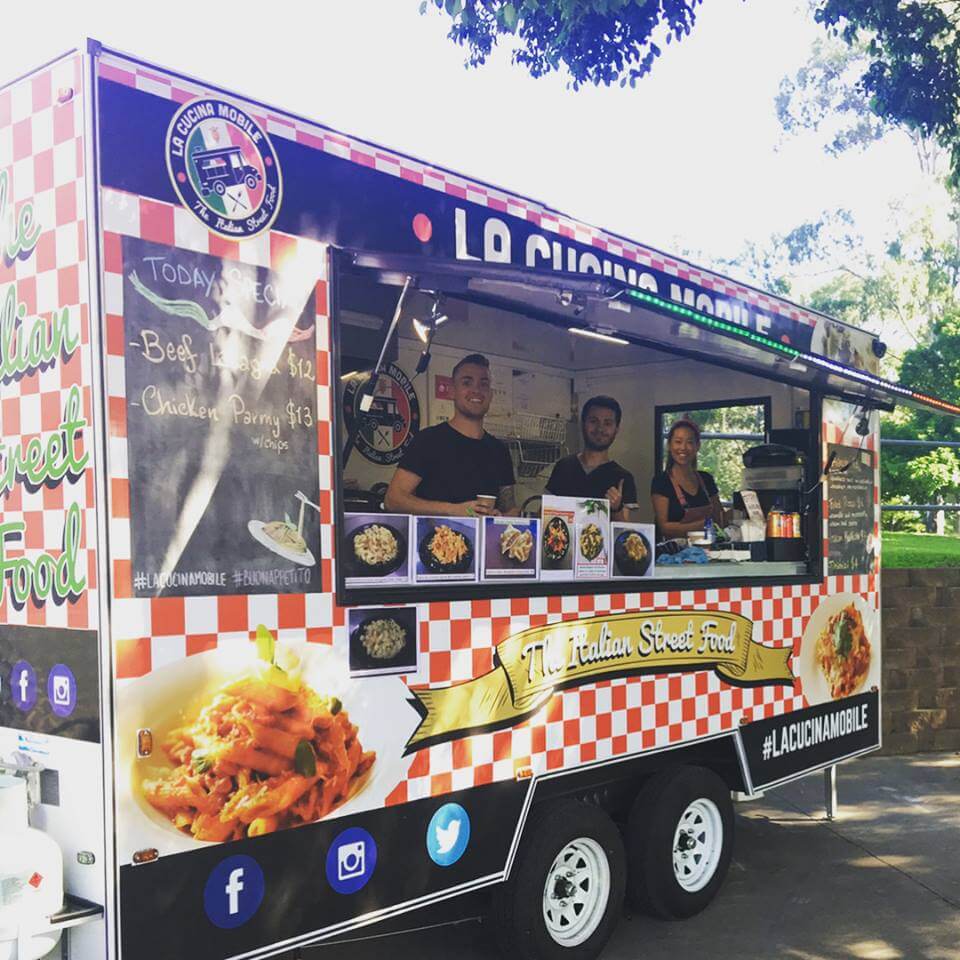 IT HAS BECOME A TREND FOR HUNGRY WORKERS AND STUDENTS TO GRAB THEIR LUNCH OR DINNER FROM FOOD TRUCKS. ONE OF THE MAIN REASONS FOR THE INCREASING POPULARITY OF THIS TREND IS THAT FOOD TRUCKS ARE IDEAL FOR GETTING QUICK MEALS WITHOUT ANY HASSLE. THESE MOBILE EATERIES OFTEN MOVE AROUND THE CITY AND ATTRACT CROWDS BY ENCOMPASSING A VARIETY OF DELICACIES IN THEIR MENU. OF COURSE THE QUALITY OF FOOD SERVED WILL GENERALLY PLAY AN IMPORTANT ROLE IN HOW WELL YOUR FOOD TRUCK WILL DO AMONGST YOUR RIVALS, BUT THERE IS ONE MORE THING THAT HELPS YOU GAIN AN ADVANTAGE WITH UNDECIDED CUSTOMERS – THE SAVVY USE OF APPROPRIATE VEHICLE GRAPHICS.
Here are some tips that we employ when designing, producing and installing food truck graphics.

GET A LOGO
When driving your food truck across the city or when parked to serve, it is important to have a professionally designed business logo. An appropriate recognisable logo printed on the wrap of a food truck can help get you recognised at a glance and pick you out in a crowd.

OPT FOR VIBRANT AND APPEALING COLOURS
The colour of the vehicle graphics used on your moving kitchen is the first aspect that catches the customers eye. Did you know the colours red and orange are scientifically proven to incite hunger amongst people. However, if you are serving vegan and vegetarian fair you will do better using green.

CONVEY IMPORTANT INFORMATION
It is also imperative to include all the necessary information like your business name, website, phone number, email, social media and so on.

PROFESSIONAL ENTICING IMAGES OF THE FOOD BEING SERVED
Even the most mouth watering delicacy can look unappealing if amateur images are used. You can hire a professional photographer or we have access to an endless supply of professional food images for you to choose from.

We will take all the above mentioned tips into account when designing your food truck vehicle graphics. We will work with you to create the most visually appealing signage for your food truck to help you gain that edge over your rivals.