Window signs and wall graphics will change the way people experience your business & premises.
Outdoor signs set the scene for your business and will get people in the door.
Let our window signs and wall signage solutions help maximise your branding and build awareness of your business. Window and wall graphics are perfect for promoting new products and sales, informing customers, as well as improving workplace productivity and morale.
Whether you have a brand-new space or need a business signage reboot, our high-quality graphics will have your windows and walls singing. No job is too big or too small, from photographic images that span entire walls to your name or logo on your door. We make the entire process easy from start to finish.
Check out our latest window sign and wall graphic projects below. Like what you see and want to give your business the professional signage it deserves? Get in touch for a quote.
Window and Wall Graphics for Brisbane Businesses
Window and wall graphics are an innovative signage solution, creating a dynamic and visually striking space. Perfect for enhancing your office or retail premises, our high-quality graphics can also be used to create privacy and screen sunlight.
Our team of signage consultants, designers and technicians work closely with you to fully understand your wishes and needs. Your vision and brand integrity are our utmost priority. Our fine-tuned processes and skilled staff ensure your brand is promoted with the quality it deserves.
As a local Brisbane business, customer satisfaction is extremely important to us. Our team of signage experts is always happy to answer questions and suggest designs, ensuring you're pleased with the final product.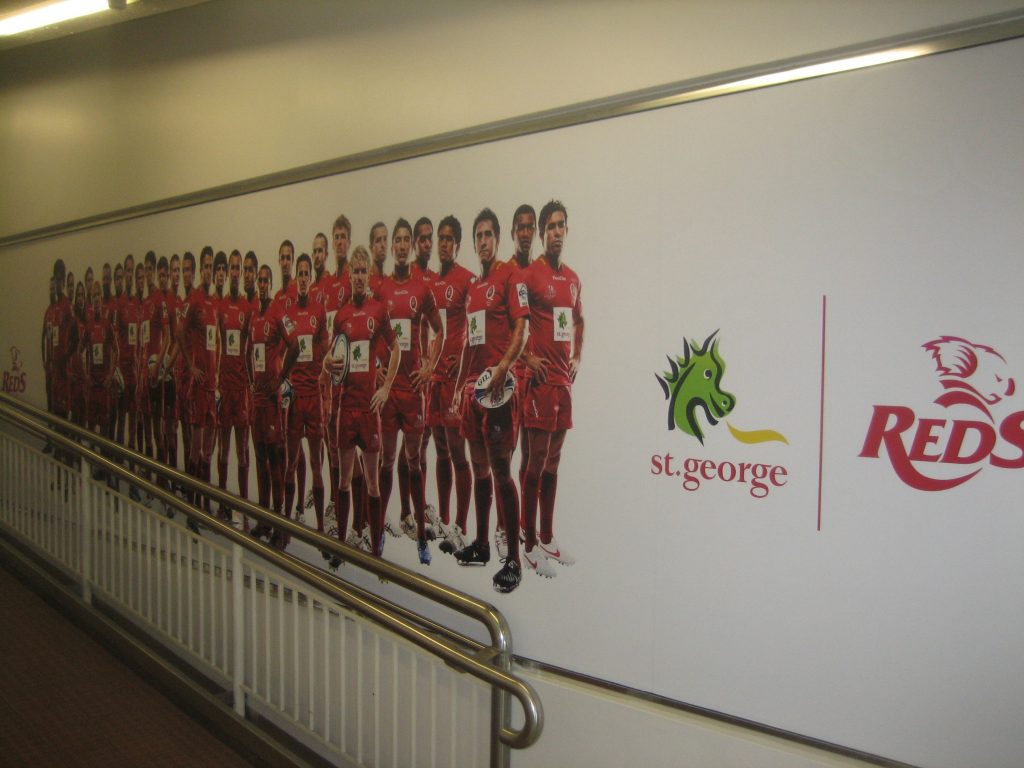 Our Window and Wall Graphics Solutions
It's easy to update your space with our range of window and wall graphics, all without the cost and time associated with remodelling! These cutting-edge window and wall graphics are printed on high-quality vinyl or non-PVC materials with overlaminate finishes.
Stickers, Lettering & Decals
Decals and stickers are a cost-effective signage option. They allow you to apply lettering, images, logos and more individually onto wall and window surfaces.
Wallpapers and murals turn a wall into a feature that inspires and impresses your visitors and staff. Print the colour, text, pattern or photograph of your choosing to instantly transform any space!
Hoardings & Large Format Printing
Hoarding signage makes a massive impact with minimal investment! It keeps your construction site and upcoming business secure while offering an opportunity to build up hype and promote your brand.
Window frosting is the modern alternative to sandblasted glass panels. It's cost-effective, offers privacy, protects against harmful UV rays and even helps manage thermoregulation. It's an ever-popular signage solution for its elegance and versatility.
One-way vision windows allow visibility from inside your premises, while people on the outside can only see your graphics. Designs are digitally printed in full colour. They can also be given an extra layer of optically clear laminate to protect the graphics from water, marks, scratches, dust and UV rays.